Garlic Parmesan Spinach Wraps
Making these spinach wraps became a family affair when I was developing this recipe. As usual, I had quite a bit of something that I needed to make use of, in this case, spinach. My children love quesadillas and tortillas so I decided I'd try giving them a healthier version and make spinach wraps. Half my kids love it; the other half look at it like it's radioactive. So I tried calling them Incredible Hulk wraps…that didn't go over well. I suppose they don't care about all the vitamin K they get from it.

Recipe Highlights
I had to make these a few times to perfect the recipe to my taste. I wanted a lot of garlic and parmesan flavor to compliment the spinach. The first few steps are pretty straightforward… make what looks like a spinach smoothie using fresh spinach (I used baby spinach) and milk in a food processor. Then, transfer the "smoothie" to the mixer and continue to add the seasoning and olive oil. Once you get that blended, mix in your flour. Once you get a dough formed, then you just roll it up and slice it into equally sized pieces.
Rolling these out can get messy, especially if your house is infested with kitchen elves under the age of 5. Come prepared and wear an apron (and a hat and headphones, if you're like me). About halfway through the first batch, I remembered I have a tortilla press, so don't think you need one. I honestly use a combo of pressing the dough ball initially and then rolling it thinner with the rolling pin.
The picture displays a scantily-clad kitchen elf in action. Spirited beasts, they are. This particular elf is pressing a dough ball so that I can roll it out.
I like using a cast-iron skillet to cook these since the heat stays on for while (and I've scorched frying pans before making the corn tortillas). They only take a couple minutes to cook and if you don't have any holes in them from rolling too thin, they'll start to blow up a little bit during the process. I really should have taken a picture of that, but just imagine your tortilla is preparing for lift-off.
Now I'll admit, my spinach-lovers loved these, my spinach-haters hated them. They're true-to-taste, so don't try to be sneaky unless….you're making these lime chicken tacos with them. Even my spinach-haters ate them. They said it was because of the lime. I'll take what I can get.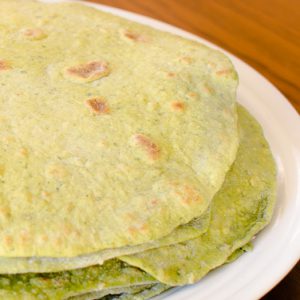 Garlic Parmesan Spinach Wraps
Fresh spinach is the highlight of this recipe. Use it to sneak extra veggies into your family's diet.
Ingredients
6

cups

fresh spinach

5

cups

all-purpose flour

4 1/2 cups for the recipe, 1/2 cup for rolling out the dough

1/2

cup

milk

1/4

cup

extra virgin olive oil

1/4

cup

parmesan

grated

2

tsp

baking powder

2

tsp

garlic powder

1

tsp

salt
Instructions
In a food processor, combine the fresh spinach and milk. Process until it becomes the same consistency as a smoothie. (Note: It might be easier to add the spinach a couple cups at a time instead of all at once).

In a mixing bowl, add the spinach mixture, olive oil, garlic powder, salt, and parmesan. Mix on medium speed until thoroughly combined.

If available, attach the dough hook to your stand mixer. If a dough hook is unavailable, use a regular mixer or a fork. One cup at a time, mix add the flour to the spinach mixture. Mix for 2-4 minutes or until the flour is fully incorporated. The dough will be slightly tacky at this point.

Place the dough onto a flat, floured surface. Cover with the dough additional flour until it no longer sticks to your fingers or the counter surface.

Using your hands, roll the dough into a cylinder, tubular shape (…make a snake). Cut in half, then cut each half into halves. Continue in this manner until you have 16, roughly equal, sized pieces.

Roll each 1/16th piece of dough into a round ball.

If a tortilla press is available, flour the surface and press the dough ball, otherwise, use a rolling pin for the same purpose (or like me…a combination of the two). Roll or press each dough ball until it is as thin as a couple sheets of paper, or a tortilla.

Preheat a cast iron skillet or another type of heavy duty skillet on med/low heat. Allow dough to rest while preheating.

Brush any excess flour off of each piece of flattened dough. Place one piece of dough into the preheated skillet. Cook each side of the tortilla for 1-3 minutes. The tortilla will start to brown and even rise a bit (like an inflated balloon).

Continue in this manner until all tortillas are cooked (or save the dough balls in the freezer for future use). Once cooled, store in a plastic zip bag in the refrigerator until ready for use.
Notes
Flour is your friend when rolling out most types of dough. It's the barrier between a gooey mess and success.
p.s. Despite how awesome I might appear online, mistakes happen. If you happen to spot one on this recipe, save your fellow cooks a disaster and let me know by using the contact form.