Crispy Chicken Tenders
Chicken tenders fresh from the fryer are awesome. Ever had one? If not, and you have only had previously frozen or even baked chicken tenders, it's not the same. Of course, the downside to making yummier chicken tenders is consumption level increases, so make extra and get your stretch pants on. Go all out and grab your honey mustard dipping sauce too. I made 12 the other day and ran out before everyone was done.

Recipe Highlights
The key to getting them nice and crunchy, other than frying them, is to follow the assembly line of flour, eggs, then breading. Line it up and make it easier on yourself, and mess-free. It's just like "shake & bake," but I helped.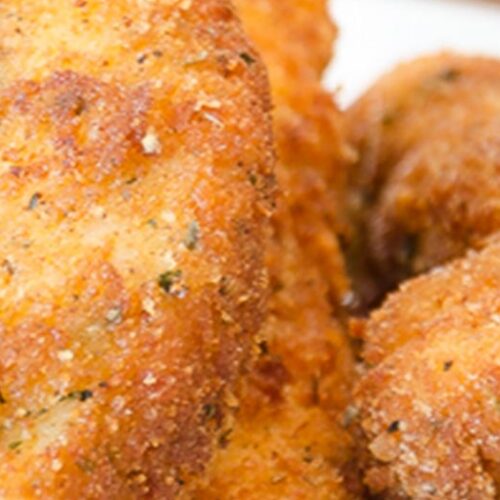 Crispy Chicken Tenders
Crunchy and juicy chicken tenders that take 15 minutes of prep and 10 minutes to cook. Stop buying frozen chicken, it doesn't compare.
Ingredients
1 1/2

tsp

salt

1

tsp

garlic powder

1

tsp

Italian seasoning

1/2

cup

all-purpose flour

1/2

tsp

black pepper

1/2

tsp

onion powder

1/2

tsp

paprika

12

chicken tenderloins

2

cups

panko breadcrumbs

1

gallon

oil

however much your fryer requires

1/4

cup

water
Instructions
Rinse and pat dry the chicken tenderloins. Set aside.

Gather a bowl, a large plate (I use a pie plate), and a gallon size zip bag.

Preheat the oil in a large skillet (1-1.5" high) on med/low heat or in a deep fryer according to the manufacturer's instructions. About 350-degrees F.

In the bowl, add the eggs and water. Whisk until well blended.

On the large plate, add the flour.

In zip bag, add panko crumbs, salt, black pepper, onion powder, paprika, garlic powder, and Italian seasoning.
Assembly Line
One at a time using tongs, dredge the chicken tenders into the flour coating it completely.

After coating the chicken with flour, dip the chicken into the egg mixture.

Place the chicken into the zip bag containing the panko crumbs and shake. Completely coat the chicken with the panko crumbs.

Continue through the assembly line using each chicken tender.

Place the chicken tenders in the preheated oil. Cook each tender for 2-4 minutes. The breading will be golden brown.

Place each fried chicken tender onto a paper bag or on paper towels to absorb excess oil.

Serve warm with ranch, BBQ sauce, teriyaki sauce, honey, blue cheese, mayo, hot sauce, etc. Possibilities are endless.
Notes
Watch the heat. If your breading starts to brown in less than three minutes, consider turning the heat down. The chicken could still be raw in the middle, even though the breading is finished on the outside if it's not cooked long enough.
Despite how awesome I might appear online, mistakes happen. If you happen to spot one on this recipe, save your fellow cooks a disaster and let me know by using the contact form.