Baked Cinnamon French Toast
This Sunday morning, I was my typical self. I woke up, walked into the living room and made coffee on auto-pilot. I don't even remember making it. Before I was done with the cup, I think my kids were talking to me. I must have still been part-zombie. They wanted food, and I didn't feel like making it. Not being in the mood, I wanted to make something easy, but satisfying. My two older sons asked for French toast, but I didn't feel like standing over the stove flipping bread, so I decided I was going to bake it, hence Baked Cinnamon French Toast.
This recipe is pretty simple and only uses one pan and a bowl. If you're ninja-like you can narrow it down to one pan. You can use old bread you have hiding in the back of your pantry…or even the heels that everyone refuses to eat. This recipe serves four. I hope your wee zombies allow you to finish your coffee before they put demands upon you, but if they don't, this one is for you.
If you like this dessert, consider one of the others below!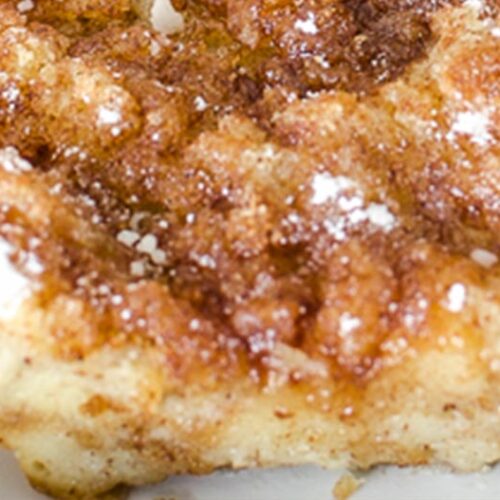 Baked Cinnamon French Toast
Make the French toast in the oven and sit down and finish your coffee.
Instructions
Preheat the oven to 375 degrees, and grease a medium ceramic or glass baking dish, such as Pyrex.

Into the baking dish, add the eggs, milk, butter, cinnamon, vanilla, and salt. Beat the eggs with a fork until all ingredients are combined.

Place the bread pieces into the baking dish and fold into the egg mixture. Continue folding in the bread until all the egg mixture is absorbed. You might need to add an extra piece of bread if there is a lot of egg not being absorbed.

In a small bowl, combine the brown sugar and cinnamon for the topping (see below).

Evenly sprinkle the topping onto the egg and bread mixture.

Place the cinnamon toast mixture into the oven and bake for 25-30 minutes.

Serve warm with maple syrup or powdered sugar.
Nutrition
Calories:
280
kcal
Carbohydrates:
30
g
Protein:
8
g
Fat:
14
g
Saturated Fat:
7
g
Cholesterol:
111
mg
Sodium:
426
mg
Potassium:
164
mg
Fiber:
1
g
Sugar:
13
g
Vitamin A:
480
IU
Calcium:
127
mg
Iron:
1.8
mg
p.s. Despite how awesome I might appear online, mistakes happen. If you happen to spot one on this recipe, save your fellow cooks a disaster and let me know by using the contact form.