The sesame sugar snap peas recipe is a result of my looking for something new to do with the sugar snap peas I found on sale. We bought a giant bag at our local bulk item store. While we typically eat them raw, I decided to take a different route since we had so many. My children love Asian food and sesame chicken, so I got inspired and broke out the wok. I believe using the ingredients that I did, that I would still consider this a healthy recipe considering we usually just snap the ends and eat them raw. This recipe would make a decent side to any Asian-inspired dish, or if you're like my husband…add it to any type of dish and merely call it "fusion."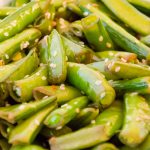 Print Recipe
Sesame Sugar Snap Peas
A speedy recipe bursting with flavor, which entices more veggie consumption.
Ingredients
3

cups

sugar snap peas

raw

1

tbsp

sesame oil

1

tbsp

soy sauce

2

tsp

sesame seeds

1

tsp

garlic

minced
Instructions
Wash, dry, and trim the ends of the sugar snap peas.

Heat the sesame oil in a wok at medium heat until very hot.

Add the sugar snap peas to the heated oil and fry for five minutes or until tender but still crisp.

Add the garlic, sesame seeds, and soy sauce to the oil and peas and fry for an additional 3-5 minutes.

Serve warm
p.s. Despite how awesome I might appear online, mistakes happen. If you happen to spot one on this recipe, save your fellow cooks a disaster and let me know by using the contact form.