Roasted Asparagus
Fresh roasted asparagus is not only great for you (Vitamin K and a good bit of Vitamin A), but when cooked well, tastes great too. Forget that salty, squishy, canned asparagus. Give yourself an opportunity to eat well with this roasted savory version.
To prevent fratricide, I typically have to grab several (at least three) "bundles" of asparagus when I'm in the produce section and double or triple the recipe because my children turn into my minions and dance around with forks trying to get the last piece.
It's easier to buy more asparagus than it is to vanquish a demon.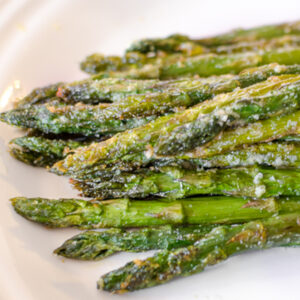 Roasted Asparagus
This roasted asparagus recipe is great for you with lots of vitamin K.
Ingredients
1

bunch

fresh asparagus

1

tbsp

parmesan

grated

1

tsp

salt

2

tbsp

extra virgin olive oil

1

tsp

garlic powder
Instructions
Preheat oven to 400 degrees.

Wash the asparagus and snap the bottoms off where they naturally break.

In a small bowl, combine the garlic powder and salt.

On a baking sheet, rub the clean, trimmed asparagus with olive oil.

Sprinkle the garlic powder and salt on the asparagus and roll in the olive oil until fully covered and seasoned.

Place in the preheated oven and roast for 20 minutes.

Once slightly crisped, remove from the oven and serve warm.
Notes
For a crispier version, turn the heat up to 425 degrees instead of 400.
p.s. Despite how awesome I might appear online, mistakes happen. If you happen to spot one on this recipe, save your fellow cooks a disaster and let me know by using the contact form.