Crispy Cinnamon Waffles
Crispy Cinnamon Waffles. I wake up in the morning (I should more accurately say, I am woken up) and as soon as I have stepped into the living room, my kids are begging for food. It's 6 a.m., who in the heck is hungry at that hour? Anyway, I got tired of buying a case of waffles and they're gone before the week is up. I decided I was going to come up with a waffle recipe, make a ton at once, and freeze any that are left over after they're done eating. It saves money and I know what is actually in the waffles that they consume so much.
This particular recipe has a cinnamon overtone and a nice crispy crust. Seriously, take a bite, inhale, and then breathe out through your nose. It's like meditation, aromatherapy, and eating all at once.
Check out these other breakfast recipes.
Flipping Fresh Flapjack Pancakes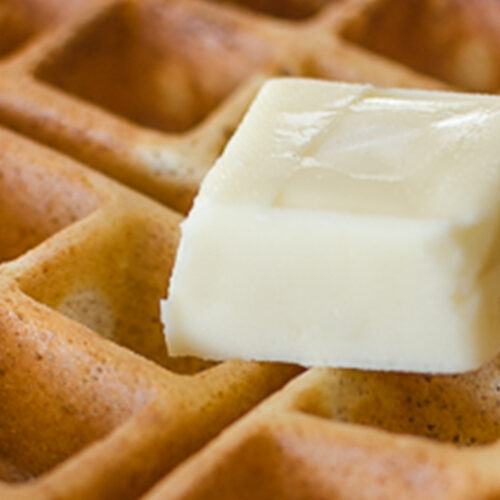 Crispy Cinnamon Waffles
Wake up the family on Saturday morning to the scent of homemade waffles.
Ingredients
1

tsp

salt

1/2

cup

butter

melted

1/2

cup

vegetable oil

2

eggs

2

tsp

baking powder

2

tsp

ground cinnamon

3 3/4

cups

milk

3

cups

all-purpose flour

1 1/2

tsp

vanilla extract
Instructions
In a mixing bowl add eggs and vanilla, beat on med-low for 2 minutes (wet ingredients).

To the wet ingredients add the room temperature melted butter, vegetable oil, and milk. Beat for an additional 2 minutes.

In a separate bowl, combine the dry ingredients: flour, baking powder, salt, and cinnamon. Whisk the ingredients together to combine.

Keeping the mixer on low, gradually add the dry ingredient mixture to the wet ingredient mixture (one cup at a time).

Allow the batter to sit for 2-3 minutes.

Pour the batter into the waffle iron: 1 cup to 1 1/4 cups per waffle. If necessary, before adding the batter use a cooking spray to keep the waffles from sticking.

Turn the iron over. Set the timer to 3-4 minutes.
Notes
(Optional) Allow the waffles to cool slightly on a wire cooling rack to keep them as crispy as possible. Nobody likes soggy waffles. Serve with warm syrup or fruit.
p.s. Despite how awesome I might appear online, mistakes happen. If you happen to spot one on this recipe, save your fellow cooks a disaster and let me know by using the contact form.