Italian Sloppy Joe Sliders

Recipe Highlights
Being short on time, I needed to make something for dinner that both pleased my football fans and wouldn't drive me crazy to put together in a short time. Italian Sloppy Joe Sliders. Imagine traditional sloppy joe sandwiches, but replace the ground beef with Italian sausage and the traditional tomato sauce replaced with RAGÚ® (I used the Homestyle Thick & Hearty Flavored with Meat Sauce variety).
The sauce is pretty easy, especially since half of it involves opening a jar of Ragu sauce. First, I cooked and browned the sausage. Once that was done, I added chopped tomatoes, black olives, a diced green pepper. Then I added the Ragu sauce and let it simmer for a couple minutes.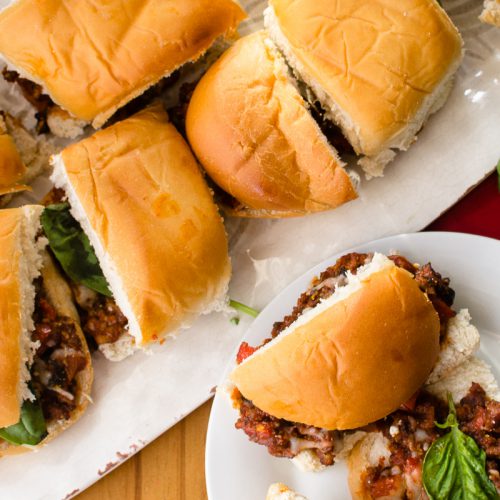 Italian Sloppy Joe Sliders
Italian sausage, hearty tomato sauce, and vegetables, topped with mozzarella in between two slices of sweet Italian bread.
Ingredients
8

leaves

basil

fresh

1/4

cup

grape tomatoes

sliced

2

tbsp

parsley

chopped

1/2

cup

parmesan cheese

grated

1 1/2

cup

mozzarella cheese

shredded

1

loaf

sweet Italian bread

or 8 sub buns

1

small can

black olives

sliced

1

jar

RAGÚ® Homestyle Thick & Hearty Flavored with Meat Sauce

23 oz

1

red bell pepper

diced

1

lb

Italian pork sausage
Instructions
Slice the Italian bread in half lengthwise and into sandwich size pieces, then place on a baking sheet.

Preheat the oven to 350 degrees Fahrenheit and bake the bread for 10 minutes.

In a large skillet, brown the Italian sausage on medium heat, and add the diced red bell pepper, black olives, parsley, and tomatoes. Cook for 3-5 minutes or until the bell pepper is soft.

Add to the skillet the RAGÚ® Meat Sauce and allow the sauce to simmer for an additional 5 – 10 minutes on low heat.

Spoon the sauce on the bottom half of each sandwich, and sprinkle the parmesan and mozzarella cheese.

Bake for an additional 5 minutes or until the cheese is melted. Remove from the oven.

Place a basil leave on each sandwich and replace the top half of the bun.
p.s. Despite how awesome I might appear online, mistakes happen. If you happen to spot one on this recipe, save your fellow cooks a disaster and let me know by using the contact form.