Dark Chocolate Fudge Brownies
Looking for dark chocolate fudge brownies? If you're looking for a fudge brownie recipe, this one is worth a shot. They are made with special dark cocoa powder and semi-sweet chocolate chips. For dark chocolate overdose: try adding a dark chocolate frosting topping (grab a napkin to wipe the drool). They don't last long in my house, and they likely won't last long in yours either. I couldn't get some to my mother's house before they had disappeared. These are pretty rich, so it's best to cut them into smaller pieces and have some "rescue" milk or vanilla ice cream in reserve.
I recommend if you have children that you wait to start the recipe until after hours if want them to survive the night. This particular batch was born at 10:35 pm, February 3, 2015, 2" long, 0.25 lb. (disclaimer: I didn't weigh them. Don't be disappointed when your brownie bite only weighs a couple ounces.)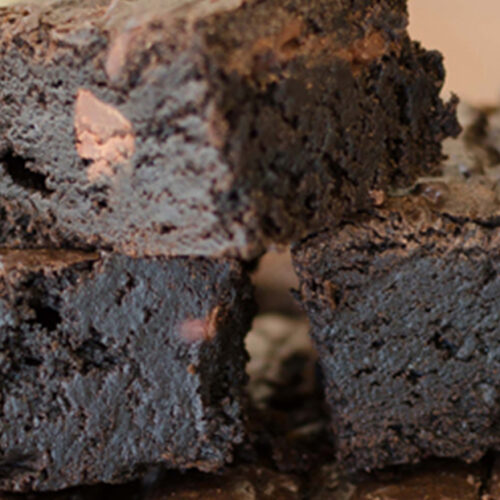 Dark Chocolate Fudge Brownies
Special Dark cocoa powder and semi-sweet chocolate chips transform your everyday brownie into overindulgence.
Ingredients
1 cup + 6 tbsp

butter

unsalted

2 1/4

cups

all-purpose flour

5

eggs

2

cups

white sugar

1 1/2

cups

brown sugar

1 1/2

cups

special dark cocoa powder

unsweetened

1 1/2

tbsp

vanilla

1 1/2

tsp

salt

1

cups

semi-sweet chocolate chips
Instructions
Preheat oven to 350 degrees.

Grease a 13×9 pan (I use a pyrex glass pan greased with butter).

In a glass dish, melt the butter in the microwave for 1-2 minutes.

Using a mixer, combine the melted butter, white sugar, brown sugar, and vanilla. Mix until creamy.

In a separate bowl combine the dry ingredients: flour, cocoa powder, and salt. Sift using a wire whisk or sifter.

On low speed, alternate adding in the eggs and dry mixture to the butter and sugar. Do not over mix.

Place the brownie batter into the greased pan and spread evenly.

Sprinkle the chocolate chips on top of the batter and, using a rubber spatula, gently press them down into the batter.

Bake in the preheated oven on the middle rack for 50-55 minutes or until the top is slightly crispy.

Allow them to cool before cutting.
p.s. Despite how awesome I might appear online, mistakes happen. If you happen to spot one on this recipe, save your fellow cooks a disaster and let me know by using the contact form.