Chicken Divan with Broccoli
Chicken Divan. Here is your chance to feel empathy; I'd never heard of chicken divan until I was in my mid-twenties. It's a well-known, American dish made by households regularly. Being an American myself, I suppose my lack of knowledge about the dish was pretty sad. Confessions lighten the soul. I'm going to attribute my lack of experience to the fact that growing up if something had mayonnaise in it (or looked like it did) my mother would not touch it, smell it, and would gag at the simple sight of it. She and mayo weren't allowed to occupy the same room. My taste buds must have been inherited from my father. Anyhow, it was my mother-in-law, who ultimately shared her version with me after making it for us one day. This version is a tasty combination of family versions with my twist. The rest of my family uses cream of chicken or mushroom soup in theirs. If I can avoid using canned soup, I do.
This recipe will show you how to make chicken divan WITHOUT cream of mushroom or cream of chicken (or cream of whatever) soup.



Recipe Highlights
I prefer to cook the chicken myself, but in a hurry, I'll use store-bought rotisserie chicken and tear it into bite-size pieces. I picked up some "meat claws" online, which I occasionally use to help with shredding. They make me look like Wolverine from X-Men. Either way, I cut it, I want to ensure that I look as awesome as possible while ripping the meat off the bones.
When cooking the chicken myself, I chop up six chicken thighs into bite-sized pieces and sautée them in a skillet on medium heat in a little bit of olive oil (about 2-3 tbsp), 1 tbsp of minced garlic, and salt and pepper to taste. Once the chicken is no longer pink, I set it aside in another bowl.

The Sauce
Sautéing it in the skillet leaves tasty morsels on the bottom of the pan, which is perfect for adding additional flavor to your sauce. Once the chicken is out of the skillet, I add in the butter, allow it to melt, and stir in the flour. After the flour is cooked, I stir in the chicken broth and the milk. We're essentially making a creamy chicken soup similar to the store-bought cans of soup. The extra work is worth it, plus, you get to brag.
After the sauce is allowed to simmer for a couple minutes it will begin to thicken, then I add in the seasonings. Once it's the consistency I want, I turn off the heat and stir in one cup of the cheese. I allow it to cool for a few minutes while I work on the bread. I don't want to add the mayo in too soon will react if I throw it in there while it's so hot. It would probably be fine, but I treat my mayo and sour cream with respect and listen to its needs.


Bread
While the sauce is cooling, I begin to butter my bread. I prefer Italian bread since it's a bit denser, but I have gone the ghetto route and used leftover sandwich bread without complaints from the consumers. It's hard to deal with though. It's all delicate and prissy and rips easily (no meat claws needed for this step…just sayin'). Beggars can't be choosers. If I'm too lazy to hit the store for dense bread then I need to suck it up and use the fluffy stuff. I cut the bread into bite-size pieces that will fit nicely on top of the chicken divan like pieces of a puzzle.
Since wrestling with the bread takes about five minutes, the sauce is ready for the sour cream or mayo. After I incorporate that, I add in the broccoli, and the chicken. I use big pieces of broccoli so it's easy to pick out for the non-broccoli eaters. I stir everything to coat it and transfer it into a casserole dish.
This recipe goes with with Chicken Divan with Broccoli => Cheddar Sage Biscuits.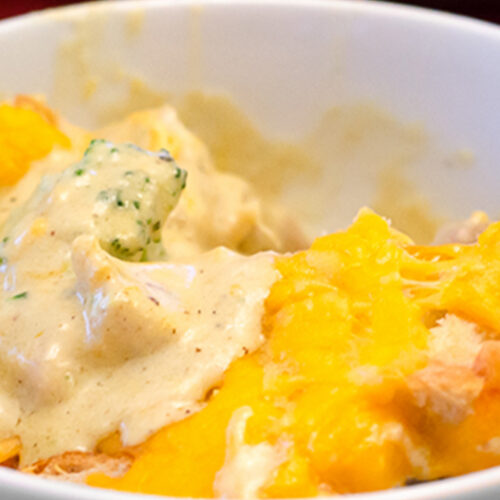 Chicken Divan with Broccoli
A chicken casserole made with seasoned chicken pieces, creamy curry sauce, and broccoli all topped with toasted cheesy bread. Leftovers only taste better!
Ingredients
1 1/2

cup

milk

1 1/2

cup

chicken broth

1 1/2

tsp

lemon juice

1 1/2

tsp

salt

1

cup

mayonnaise

or sour cream

1

tsp

garlic powder

1/2

tsp

onion powder

1/4

tsp

black pepper

2 1/2

tbsp

flour

2

cups

shredded cheddar cheese

half reserved for topping

2

tsp

curry powder

2

cups

frozen broccoli florets

3

tbsp

butter

6

slices

bread

5

cups

chicken

cooked (shredded or cubed)
Instructions
Chicken
If using raw chicken: sautée bite-sized chicken pieces in olive oil over medium heat (seasoned with 1 tbsp minced garlic, salt, and pepper -to taste) until no longer pink. Alternatively, use prepared chicken: such as store-bought rotisserie chicken. Set aside in a separate bowl.
Sauce
Once the chicken is cooked and set aside, melt 3 tbsp of butter in a skillet over medium heat. Have the flour and chicken broth ready. After the butter is melted sprinkle the flour into the skillet fully incorporating it into the butter. Cook until golden in color (about 30 seconds to a minute).

After the flour is cooked, slowly whisk in the chicken broth until it becomes smooth and almost gravy-like in texture.

Slowly add in the milk while continuing to whisk. Allow the mixture to come to a simmer, then add in the seasoning: curry powder, salt, garlic powder, onion powder, black pepper, and lemon juice.

Continue to allow the mixture to simmer for another few minutes until begins to thicken. Turn off the heat. Then, stir in 1 cup of the cheddar cheese.

While the sauce is cooling, begin to butter the bread. Cut into small bite-sized pieces. (Note: buttering the bread is optional, but recommended.)


To the cooling sauce, stir in 1 cup of mayonnaise or sour cream.

Once the sauce is completely combined, add in the desired amount of broccoli and the cooked chicken. Stir to coat.

Transfer the sauce, broccoli, and chicken into a 9×13 casserole dish, spreading it out evenly. Create a top layer with the pieces of buttered bread.

Sprinkle the remaining cheese on top of the layer of bread.

Place in the preheated oven and cook for 25-30 minutes.
Nutrition
Calories:
522
kcal
Carbohydrates:
17
g
Protein:
18
g
Fat:
42
g
Saturated Fat:
14
g
Cholesterol:
82
mg
Sodium:
1149
mg
Potassium:
315
mg
Fiber:
1
g
Sugar:
4
g
Vitamin A:
700
IU
Vitamin C:
24.3
mg
Calcium:
307
mg
Iron:
1.8
mg
p.s. Despite how awesome I might appear online, mistakes happen. If you happen to spot one on this recipe, save your fellow cooks a disaster and let me know by using the contact form.