BBQ Baked Potato
BBQ baked potato is a staple on game day in our house. Football games on Sundays have become a new tradition, along with the appetizers which go along with it. It must be the powerful seasonings with which each potato is rubbed or the massive amounts of shredded cheese on top. Whatever the reason these are such a hit, I'm sure happy that they are easy to prepare.
The first thing I like to do when making these is preheating the oven. During this forever-long wait for the oven to preheat, I can wash and stab all my potatoes. I like to give each potato equal stabbing-coverage. Three to four stabs with a sharp knife all over the potato should suffice, but feel free to use this moment for felony-free stress relief. A few extra pokes won't kill anything…

Potato
Now, since I hate scrubbing pans, I line my baking sheet with foil. All the potatoes are tossed on my baking sheet while getting my seasoning and oil together. Then, I rub each potato with olive oil and a bit of the seasoning mixture and pop it in the oven for 50 minutes.

Chicken
Next, I shred the chicken and add the bbq sauce. You can use rotisserie chicken you found at the grocery store, left-overs from the night before, or cook chicken especially for this reason (if baking, 25 min in a 350-degree oven should do the trick.)
Once the chicken is shredded and swimming in the bbq sauce, pop it in the oven along with the potatoes for twenty minutes. Basic math suggests that you wait until the potatoes have been in for 30 minutes, leaving 20 minutes remaining.
Once everything is done baking and out of the oven, allow it to cool for a few minutes. We've all heard that children's song "hot potato." That song exists for a reason…it's warning to those who lack enough common-sense to wait a few minutes before consumption.
This next part is easy. Be creative. Bust that potato open and fill it with your guilty pleasures. I like to add butter, bbq chicken, cheese, additional salt and pepper, sour cream, bacon, and chives.
I'd love to hear what you add on yours. This recipe can be used with any bbq meat you have on hand. Share your variation in the comments!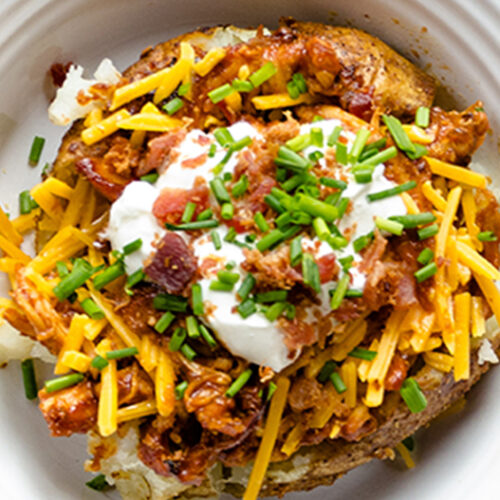 BBQ Baked Potato
Baked potato rubbed with powerful seasoning and loaded with barbecue chicken and your favorite toppings.
Ingredients
6

large

baking potatoes

4

chicken breasts

cooked

1

cup

barbecue sauce

1 1/2

cup

shredded cheddar cheese

3/4

cup

bits of bacon

1/2

cup

sour cream

1

bunch

fresh chive or green onions

sliced

1 1/2

tbsp

parmesan cheese

grated

1/4

cup

olive oil

extra virgin

2

tsp

salt

1/2

tsp

pepper

2

tsp

garlic powder

1/4

tsp

paprika

3

tbsp

butter for spreading
Instructions
Wash and dry the potatoes. Stab each potato with a knife or fork several times to ensure even cooking.

In a small dish, combine the seasonings: salt, pepper, garlic powder, paprika, and parmesan cheese.

Line a baking sheet with foil and rub potato with olive oil and the seasonings.

Bake the potatoes in the oven for 50 minutes or until fully tender when poked with a fork in the center. (if you prefer a softer potato skin after baking, wrap each potato in foil before baking).

Shred the cooked chicken breast and place in a small baking dish and combine with the bbq sauce. Coat all the chicken with the bbq sauce.

When the potatoes have been in the oven for 30 minutes place the chicken in the oven on a different rack. The chicken and the potatoes should have about 20 minutes left to bake.

Once the chicken and potatoes have finished baking, remove them from the oven and allow to cool for five minutes.
Assemble the potato
In a bowl or on a large plate, place the potato and slice an "X" with a knife.

Scrape the potato's insides (the white part or orange, if using a sweet potato) to loosen it from the potato's skin.

To the inside of the potato add butter, bbq chicken, cheese, bacon, sour cream, and chives (or whichever toppings you prefer).
Nutrition
Calories:
887
kcal
Carbohydrates:
88
g
Protein:
54
g
Fat:
35
g
Saturated Fat:
16
g
Cholesterol:
172
mg
Sodium:
2144
mg
Potassium:
2284
mg
Fiber:
5
g
Sugar:
18
g
Vitamin A:
830
IU
Vitamin C:
24.1
mg
Calcium:
315
mg
Iron:
4.4
mg
p.s. Despite how awesome I might appear online, mistakes happen. If you happen to spot one on this recipe, save your fellow cooks a disaster and let me know by using the contact form.