Roasted Sugar Stripe Beets
I know what you're thinking…who in the heck wants a recipe for beets? Well, these aren't those nasty canned beets your mother used to force down your throat. I promise. The candy stripe beet, otherwise known as the candy cane, bullseye, or Chioggia beet is considered an heirloom veggie from Northern Italy. It sports a sweeter flavor in addition to a fabulous Dr. Seuss themed attire.
The first is a shot of my baby beets before they were roasted but not before I slathered them in olive oil, salt, pepper, and organic thyme.
After trimming the ends of the beets a bit and cutting them into quarters, I put them in a 9×13 glass pan and roasted them at 400 degrees for 40 minutes. Once roasted, I tossed them with a splash of vinegar and orange juice before serving.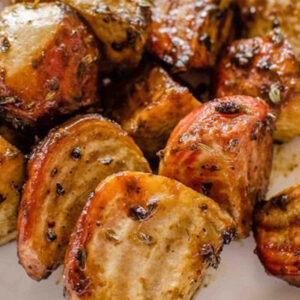 Roasted Sugar Stripe Beets
Rustic, roasted beets that don't resemble the canned version at all. The recipe says serves four, but I bet you could eat them all in one sitting.
Ingredients
4

sugar striped beets

1/4

cup

orange juice

1

tbsp

vinegar (balsamic or red wine)

3 tbsp

olive oil

1

tbsp

dried thyme

2

tsp

salt

1

tsp

black pepper
Instructions
Preheat oven to 400 degrees.

Remove the tops and cut the beets into quarters.

In a large bowl, combine all of the ingredients and toss to coat.

After completely coated in the oil mixture place in a 13×9 inch glass dish and bake for 40 minutes.

Toss the roasted beets in the vinegar and orange juice and serve.
p.s. Despite how awesome I might appear online, mistakes happen. If you happen to spot one on this recipe, save your fellow cooks a disaster and let me know by using the contact form.