Ginger Pork Tenderloin
What's there to say about this easy, yet flavorful pork tenderloin recipe, other than it's easy and flavorful. I knew I was going to have a busy day ahead of myself, so I tossed this into the slow-cooker and went about my day. I can usually find pork loin on sale at the grocery store, (BOGO) buy-one get-one free, which make this recipe pretty useful.
I served the pork with quinoa cooked in my rice cooker with chicken broth (rather than water), and a little soy sauce drizzled over it at the table. My family was happy with it, which meant it was a success. The pork was so tender that even my 14-month-old was able to eat it.
I spent five minutes prepping the pork for the slow cooker and went about my day. It was ready in time for dinner. If you find the pork tenderloin on sale you can feed an army cheaper than if you took your family to a cheap fast food restaurant.
Check out these other carnivorous recipes.
Crispy Chicken Tenders
Grilled Beef Tenderloin
Italian Sloppy Joe Sliders
Recipes To Feed Your Meat-Lover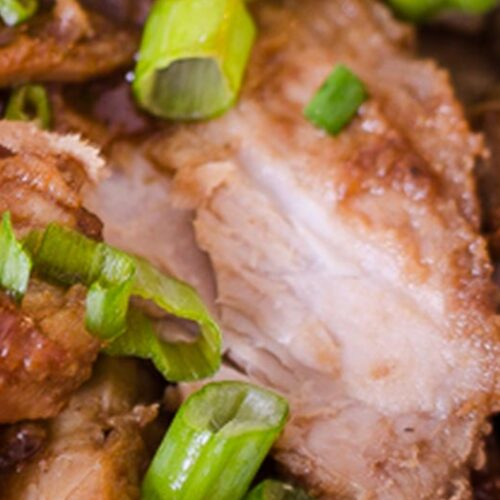 Ginger Pork Tenderloin
Just mix a couple ingredients in a bowl, plop the pork into your slow cooker, pour contents of the bowl over the pork, then step away.
Ingredients
1

whole

pork loin

3/4

cups

chicken broth

(or water)

1/2

cup

soy sauce

2

tbsp

green onions

chopped

1

tbsp

balsamic vinegar

1

tbsp

sesame oil

1/2

tsp

garlic powder

1/2

tsp

ground ginger

1/4

tsp

black pepper
Instructions
While preparing the seasonings, preheat the slow cooker on high

In a small bowl combine the chicken broth, balsamic vinegar, sesame oil, soy sauce, garlic powder, ground ginger, and black pepper. Stir until blended.

Add the pork loins to the slow cooker and pour the soy mixture on top.

Replace lid and turn the slow cooker down to low heat. For very tender pork loin, allow cooking for 6 hours (or less for a firmer texture).

Optional – About 15 minutes prior to serving, using a ladle, remove as much of the liquid from the slow cooker as you can and place in a pot.

Optional – On high heat, allow the liquid to reduce in the pot until dark brown and slightly thicker.

Remove the pork from the slow cooker and slice. Place in a large bowl.

Optional – Drizzle the reduced liquid onto the pork.

Top with sliced green onions.
Despite how awesome I might appear online, mistakes happen. If you happen to spot one on this recipe, save your fellow cooks a disaster and let me know by using the contact form.