Crispy Sesame Chicken
Have you ever been to sitting somewhere, and you suddenly crave the sweet and savory, crunchy yet gooey and sticky goodness that is crispy sesame chicken? I get that craving all the time. Unfortunately for my diet, my children have inherited this vice as well. While it's cheap enough to pick up takeout from the people who run the Chinese joint down the road, as we do every Thursday, I wanted to have my own recipe.

Back In The Day
I suppose there is quite a bit of history between myself and Chinese restaurants. I think it all started when I was sixteen (I got my driver's license). My brother and I would go to a new Chinese buffet every time school let us out for a half-day. We'd leave straight from school, and drive around the city until we found a new one we had not been to yet. Mind you, this was before every kid had a cell phone and the glorious necessity of GPS, so the process of finding a new haunt took some time, but not too much. They were everywhere. I didn't see it at the time, being a self-absorbed teen, but it was a bonding experience between my brother and myself.
I never stopped the affair with Asian food. My stomach is an equal-opportunity lover.

Recipe Highlights
My kids love crispy sesame chicken. I love General Tso chicken. This is a happy medium in our house. If you like a sweeter sauce, simply add some extra sugar, honey, or perhaps citrus juice. Just be sure to keep up the liquid ratio of the sauce. If you add orange or pineapple juice to sweeten this recipe, reduce the amount of the soy sauce by the same amount. If you find you've added too much, try increasing the cornstarch a little bit to compensate. That's what thickens your sauce.

Assembly Line
Regarding the order you cook this in, I'd do the frying last. I like crispy sesame chicken. I always set up an assembly line when frying chicken…flour, egg, then Panko bread crumbs
. After I fried the chicken, I put it in a large bowl and drizzled the sauce over then topped it with a pop of green color and flavor (finely sliced green onions). I think everything looks better with green onions on top. Agree?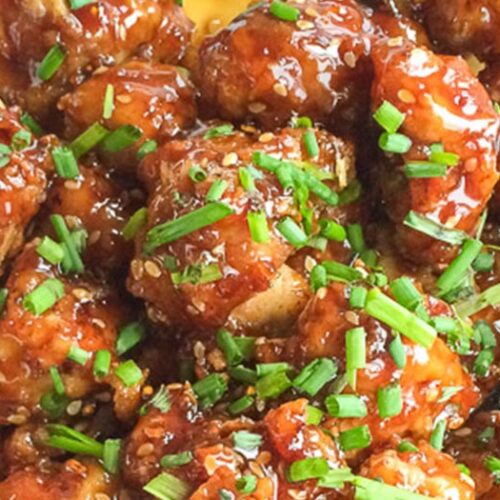 Crispy Sesame Chicken
Sweet and savory sticky sesame sauce drizzled over crunchy chicken, topped with sesame seeds and green onions.
Ingredients
1

cup

vegetable oil

for frying

6-8

chicken breasts

3

tbsp

rice vinegar

2

tbsp

sesame oil

2

tbsp

cornstarch

2

eggs

beaten

1/2

cup

soy sauce

1/2

cup

green onions

chopped

1/2

cup

honey

honey

1 1/2

tsp

ground ginger

or 1 tbsp fresh ginger

1 1/2

tbsp

sesame seeds

1 1/2

cups

panko crumbs

1 1/2

cups

flour

1

tsp

onion powder

1

tsp

garlic powder

1

tbsp

minced garlic

1

cup

chicken broth

1

cup

brown sugar
Instructions
Marinade
In a medium saucepan combine soy sauce, garlic, rice vinegar, ginger, sesame oil, chicken broth, honey, and 1/4 cup brown sugar. Heat on low until the sugar is dissolved. Allow it to cool.

While the marinade cools, clean and cut the chicken into bite size pieces.

In a large glass dish, combine the chicken and 3/4 cup of the marinade. Save the remaining marinade for the sauce. Refrigerate for at least an hour, while it marinates.
Sauce
In the same medium saucepan add the remaining, unused, marinade (1 cup) along with 3/4 cup brown sugar and cornstarch.

Heat on medium heat while whisking the cornstarch until dissolved.

Once dissolved, bring the sauce to a boil for 3-4 minutes; the sauce will thicken. Add the sesame seeds and allow to simmer for another couple minutes.
Chicken
In a deep fryer or large iron skillet, heat the vegetable oil on medium heat.

Set up an assembly line for the chicken using separate bowls or zip baggies: flour + garlic and onion powder, eggs, and panko crumbs.

Dredge the chicken in the flour, then eggs, then panko crumbs. Set aside for frying.

Cooking in batches, fry the chicken in the preheated oil for 3-5 minutes, until golden brown.

Place on a paper towel lined plate to absorb excess oil.

In a large bowl, combine the chicken and sauce. Top with sliced green onions, additional sesame seeds, and serve with rice or noodles.
Despite how awesome I might appear online, mistakes happen. If you happen to spot one on this recipe, save your fellow cooks a disaster and let me know by using the

contact form

.