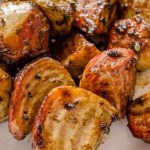 Print Recipe
Roasted Sugar Stripe Beets
Rustic, roasted beets that don't resemble the canned version at all. The recipe says serves four, but I bet you could eat them all in one sitting.
Preheat oven to 400 degrees.

Remove the tops and cut the beets into quarters.

In a large bowl, combine all of the ingredients and toss to coat.

After completely coated in the oil mixture place in a 13x9 inch glass dish and bake for 40 minutes.

Toss the roasted beets in the vinegar and orange juice and serve.