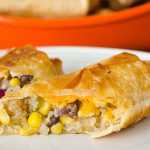 Print Recipe
Quinoa Chimichangas
Made with quinoa, black beans, and corn. Leftovers freeze well for use on busy nights. Try topping it with fresh salsa or cheese sauce and serve with tortilla chips.

In a large bowl, combine the: diced tomatoes, cooked quinoa, black beans, fiesta corn, green chiles, diced red onions, and lime juice. Mix until combined thoroughly.

In a deep fryer or large cast iron skillet, add vegetable oil as per manufacturer instructions or until the oil reaches 1-1.5 inches high in the skillet. Preheat the oil on medium/low heat.

Place an uncooked flour tortilla on a flat surface.

Using a tablespoon, scoop two tablespoons of the quinoa mixture and place it onto the tortilla. Sprinkle the shredded cheese on top, if desired.

Tuck in the ends of the tortilla and roll it.

Place the uncooked chimichanga into the preheated oil in the skillet or fryer.

Fry the chimichanga for 2-4 minutes total, turning once to ensure both sides reach a golden brown appearance.

Remove the fried chimichanga from the oil and place on a cooling rack with a paper towel underneath to catch any dripping oil.