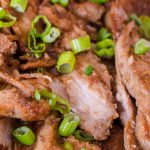 Print Recipe
Ginger Pork Tenderloin
Just mix a couple ingredients in a bowl, plop the pork into your slow cooker, pour contents of the bowl over the pork, then step away.
1

whole

pork loin

3/4

cups

chicken broth

(or water)

1/2

cup

soy sauce

2

tbsp

green onions

chopped

1

tbsp

balsamic vinegar

1

tbsp

sesame oil

1/2

tsp

garlic powder

1/2

tsp

ground ginger

1/4

tsp

black pepper
While preparing the seasonings, preheat the slow cooker on high

In a small bowl combine the chicken broth, balsamic vinegar, sesame oil, soy sauce, garlic powder, ground ginger, and black pepper. Stir until blended.

Add the pork loins to the slow cooker and pour the soy mixture on top.

Replace lid and turn the slow cooker down to low heat. For very tender pork loin, allow cooking for 6 hours (or less for a firmer texture).

Optional - About 15 minutes prior to serving, using a ladle, remove as much of the liquid from the slow cooker as you can and place in a pot.

Optional - On high heat, allow the liquid to reduce in the pot until dark brown and slightly thicker.

Remove the pork from the slow cooker and slice. Place in a large bowl.

Optional - Drizzle the reduced liquid onto the pork.

Top with sliced green onions.