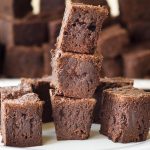 Print Recipe
Easy Fudge Brownies
Overindulge and impress with these easy, super moist fudge brownies.
2 1/2

sticks

butter

melted

1 1/2

cups

semi-sweet chocolate chips

1 1/2

cups

brown sugar

1 1/2

cups

special dark cocoa powder

unsweetened

1 1/2

tbsp

vanilla extract

1 1/2

tsp

salt

2 1/4

cups

all-purpose flour

2

cups

white sugar

5

eggs
Preheat oven to 350 degrees.

Grease a 13x9 pan (I use a pyrex glass pan greased with butter).

In a glass dish, melt the butter in the microwave for 1-2 minutes.

Using a mixer, combine the melted butter, white sugar, brown sugar, and vanilla. Mix until creamy.

In a separate bowl combine the dry ingredients: flour, cocoa powder, and salt. Sift using a wire whisk or sifter.

On low speed, alternate adding in the eggs and dry mixture to the butter and sugar. Do not over mix.

Place the brownie batter into the greased pan.

Sprinkle the chocolate chips on top of the batter and, using a rubber spatula, gently press them down into the batter.

Bake in the preheated oven for 50-55 minutes or until the top is slightly crispy.

Allow them to cool before cutting.